When you are most vulnerable, you want to rely on only the most caring, devoted and compassionate people. You want someone who genuinely cares for you, whom you can call a friend, and whom you can trust with your life. That's why you need CarpeVITA Home Health Aides to assist you!
At CarpeVita Home Care, we don't hire people, we hire Home Health Aides, that are people who have a calling to help others and who are born caregivers. Providing care is a passion to our Home Health Aides and if they weren't being paid to care for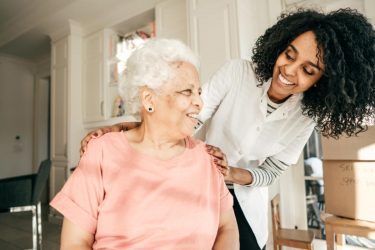 people, they'd find a way to do it anyway. They don't just want a job. They want to make a difference. CarpeVITA Home Care provides them with a way to add meaning to their lives by improving the lives of others.
Our Home Health Aides' gain fulfillment from making a positive impact on their client's lives. They have a natural ability to provide them with more comfort, laughter and enjoyment, and it is what drives them. These compassionate men and women don't simply perform a job. They become part of their client's lives in ways that transform the lives of the client, the client's family and the aide.
Caregiving is not easy and it is not for everyone. That's why we take our hiring process very seriously. We hire only the most qualified, friendliest, most caring individuals.
We adhere to a strict selection process when hiring Home Health Aides. They are measured by reference checks, background clearance, competency testing and overall personality, compassion and drive to make a difference.
Each aide is insured and bonded and we manage all aspects of taxes, benefits, and workers compensation, so that you can conveniently enjoy peace of mind.
Our Home Health Aides undergo ongoing general and specialized training that keeps them abreast of the latest developments in general care, senior care, and specialized care, as well as supplemental topics, such as nutrition, fitness and safety.
Each aide is supervised and evaluated by a registered nurse, and the client and family are encouraged to take part in the ongoing evaluation process.